About dedicated servers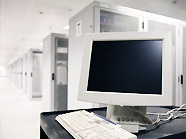 Our Servers
We take great pride in the hardware we use for our dedicated servers. We only use the latest and thoroughly tested Blade servers manufactured by SuperMicro.To take the greatest care of your data, all our servers come with two hard disks by default with RAID1 enabled. Making sure, even when one hard disk completely breaks down, your data is still intact and your server will remain online.
Think of a dedicated web server as a storage unit for your website or web applications. It keeps documents, videos, images and other computer files online. Web hosting companies rent space to you. All you've got to do is upload files or a website onto the server.
Dedicated server features
1

Remote Reboot Panel

2

Pro-Active Management

3

Managed Backups

4

Free WHMCS License
5

Hardware Upgrades

6

Permanent KVMoIP

7

Web Control Panels

8

Fast Setup
Storage on the Cloud
To make sure that you will never run out of space on your server, we give you the power to infinitely expand your storage using our Shared storage device. This is in addition to your default local RAID 1 mirrored hard drives. This Cloud storage (a mount on your server) is provisioned instantly, with one click of the mouse.
| | Dedi #1 | Dedi #2 |
| --- | --- | --- |
| Processor(s) | Intel Dual | Intel Quadro |
| System Memory | 8 GB DDR3 | 16 GB DDR3 |
| Storage | 1 x 160GB | 2 x 250GB |
| Monthly Transfer | 4000GB | 8000GB |
| Free Dedicated IPs | 1 | 5 |
| Upgrades Available | | 5 |
| Multi-Gigabit Network | 0 | |
| 100Mbit Uplink Connectivity | | |
| Setup Fee(s) | $10 | $30 |
| Pricing | 22.95 / month | 29.95 / month |
| | Order now! | Order now! |